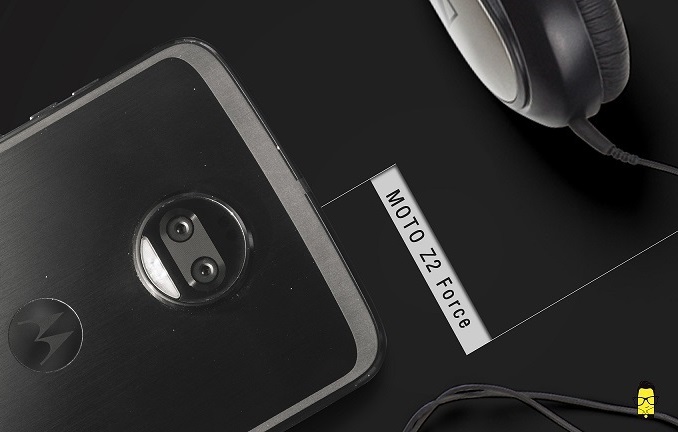 Rating: 8.1/10
Yay:
Shatterproof display
Super crisp AMOLED panel
Blazing fast performance
Modular design
Nay:
Unergonomic design 
Poor audio quality
Poor battery life sans the battery mod
When it comes to flagship phones it's always about elegant curves, shiny materials and charming looks, but most of them cannot take a hit to the head. Modern flagships from Samsung and Apple, will not survive a more than a single fall.
And that is where, Motorola comes in tries to differentiate with the Moto Z Force series. These are flagship phones with appealing looks and the sturdiness of a mountain.
Recently, Motorola launched the 2nd edition of the Moto Z Force in India. This is a phone that carries forward a brave design and hopes to make a crack in the smartphone universe. Ironic much? 
Design 
Moto Z2 Force is probably one of the most uniquely-designed phones released last year. Unique not for its visual appeal, but for its utilitarian design. It's not the thinnest phone on-paper, but it feels thinner than most phones I've used lately, flagship or otherwise. That might also be partly because while other phones claim to have a thinner frame, they are usually considerably thicker towards the centre.
However, the
Moto Z2 Force
has a flat back. The buttons are all amazingly well built and while they are the most overlooked part of a smartphone design, Moto did an applaudable job here. The bottom hosts a single USB-C port, which is also the only port on the Z2 Force .Yes! it lost its Jack…….just like Rose did in the Titanic. Pun (wholeheartedly) intended. At the back sits an array of magnetic pins for connecting the Moto MODS.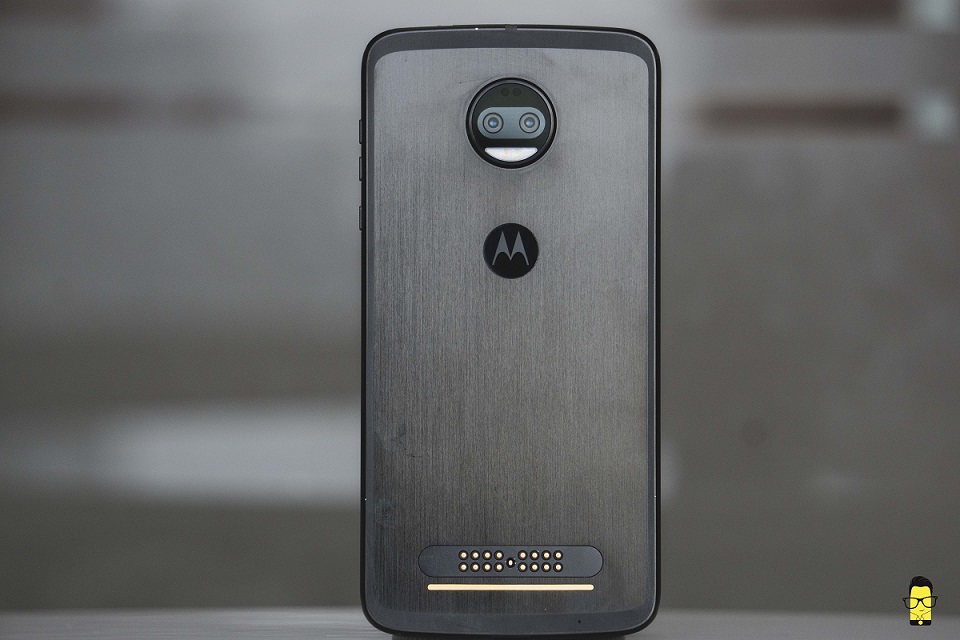 Display 
Now, for most people, the first thing you buy after you get your expensive phone is a case to protect the screen. The Moto Z2 Force doesn't need one. The screen has a shatterproof glass on top that Moto has been perfecting for quite some time now. Basically, the screen is unbreakable and it's also one of the best I've used. It's an AMOLED panel with pitch blacks and poppy colours.
The big black bezels on the top and bottom bring the screen to an aspect ratio of 16:9 instead of 18:9. But, I don't mind it. I was using 18:9 displays all the time, but the Z2 Force felt perfectly alright. The display also gets appropriately bright for outdoor conditions, usually, AMOLED displays struggle with sunlight visibility, but this one does a decent job.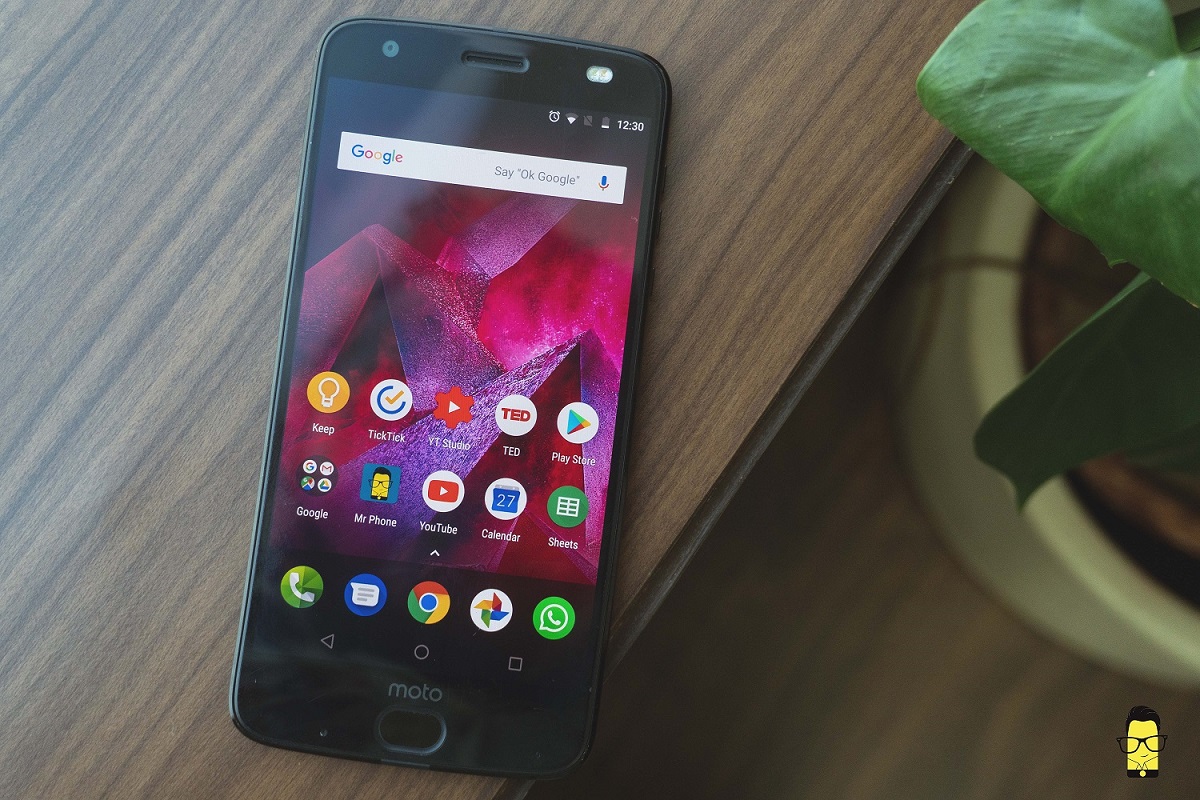 Fingerprint scanner
Below the display sits the fingerprint sensor, and it is freaking awesome. I think OnePlus gets too much limelight for being the fastest fingerprint scanner. All Moto phones I've used have had really fast and at the same time, really accurate fingerprint scanners. The Z2 Force was no different. Fingerprint gestures is also a brilliant idea. I got used to it really quickly and along with being intuitive, it frees up a lot of screen real estate.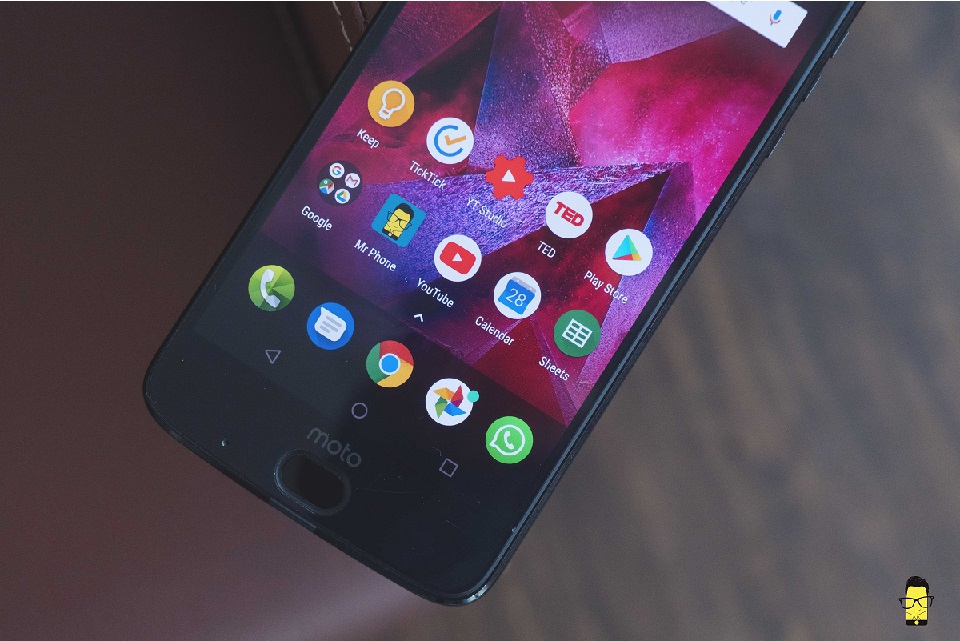 While the whole multimedia experience looks good, there is one part that ruins it all for me. There is only one speaker on the Z2 Force and it's the earpiece that doubles as a single speaker. It's tiny, it's muffled at times, and is possibly one of the worst parts of an otherwise solid phone.
Software 
Moto Z2 Force, like all Moto phones comes, with a near-stock Android experience, which I am a fan of. The near-stock experience makes sure that the skin is as light as possible, which in-turn means that the processor can perform like a beast.  
And to top it off, it now runs on Android Oreo 8.0. This means that you get to enjoy all of Google's latest features like, autofill, smart text selection, advanced notification grouping, and others on the Z2 Force.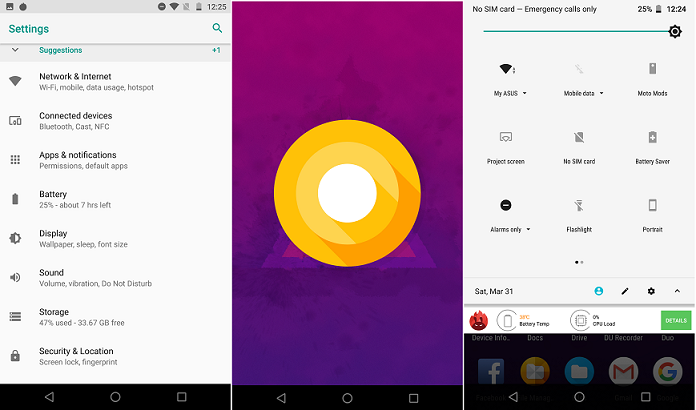 Motorola phones also come with a few Moto-specific apps which add interesting functionality to the devices. Moto Actions lets you make use of a lot of gestures like swipe to shrink the screen, pick up to stop ringing, or the popular chop chop for the flashlight.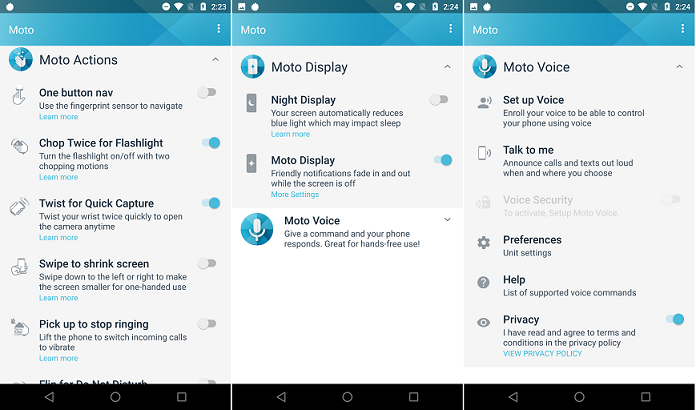 You also get Moto Voice where you can set up a custom launch phrase and do certain tasks just using your voice. All in all, the software experience is very clean with a touch of Moto.
Performance
When it comes to performance, the Moto Z2 Force is a beast. I've never had any lagging issues. Games run very smoothly and it's just a bliss to use it. The Snapdragon 835 inside also makes sure that the power efficiency is taken care of. Daily apps also run without a hiccup with basically not traces of overheating. The multitasking is also an amazing experience. You can feel that 6GB RAM in your hands when you are multitasking, apps stay in memory for longer and even big games re-load right from where they were paused.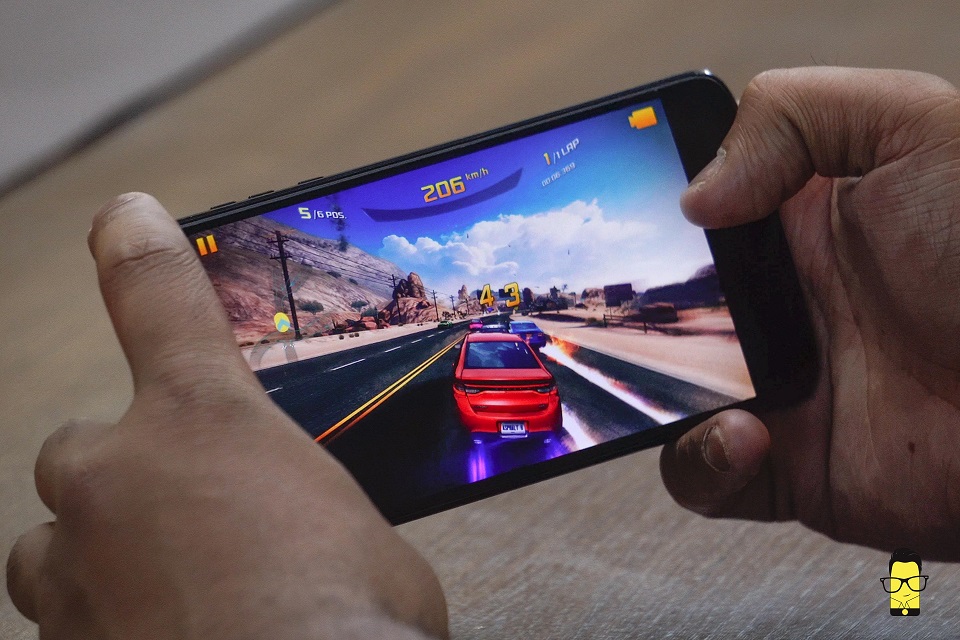 Antutu Score for the Moto Z2 Force was a whopping 209,119 which is a very standard score for Snapdragon 835. This score is also a little among the higher Snapdragon 835 scores due to the massive RAM configuration.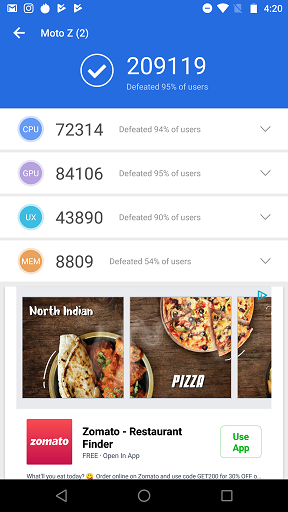 The performance is never going to be an issue on the Moto Z2 Force and I think it is undoubtedly one of the strongest areas of the Moto Z2 Force. But considering the Snapdragon 845-based phones are already out in the market, the Z2 Force is definitely late to the party. 
Camera 
The Moto Z2 Force has a decent camera. I've never been a fan of Moto Cameras and there were barely any devices that really stunned me. The setup on the back has two 12MP cameras with an f/20. lens on the primary sensor. On the front, we've got a 5MP camera with a selfie flash for low light situations.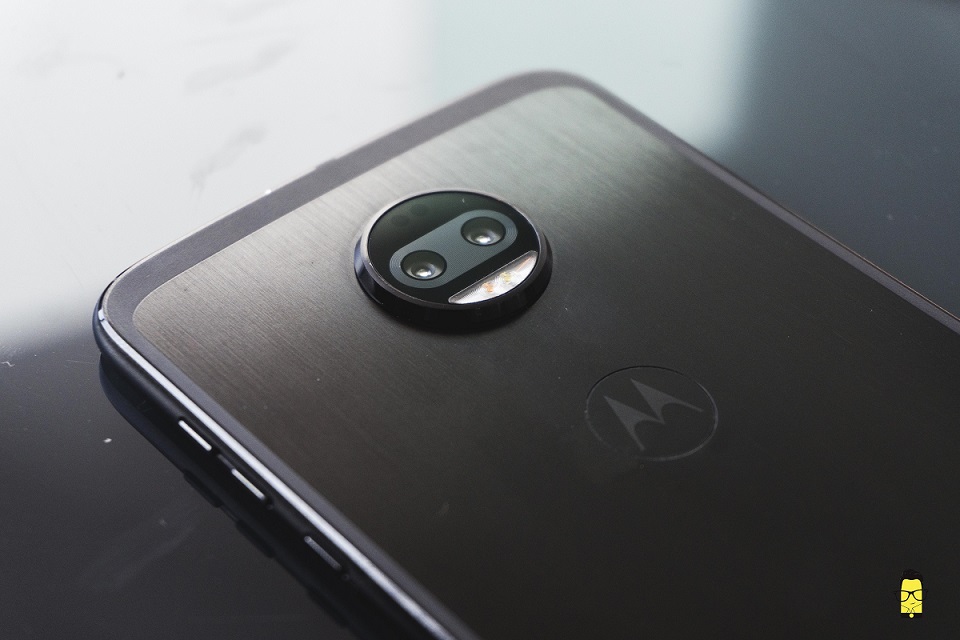 The Z2 Force too seems just average here. The pictures come out looking just fine with good detail and colour but it has never been mind-blowing, the lens used also seems a bit too average which is probably why there is usually a lot of flaring. Low light shots are also pretty average, with a lot of noise. Taking videos on this are also not the best experience, EIS does work but the output doesn't look better than what's already out there in some other competitors.
To take a look at full-size camera samples, click on the image below.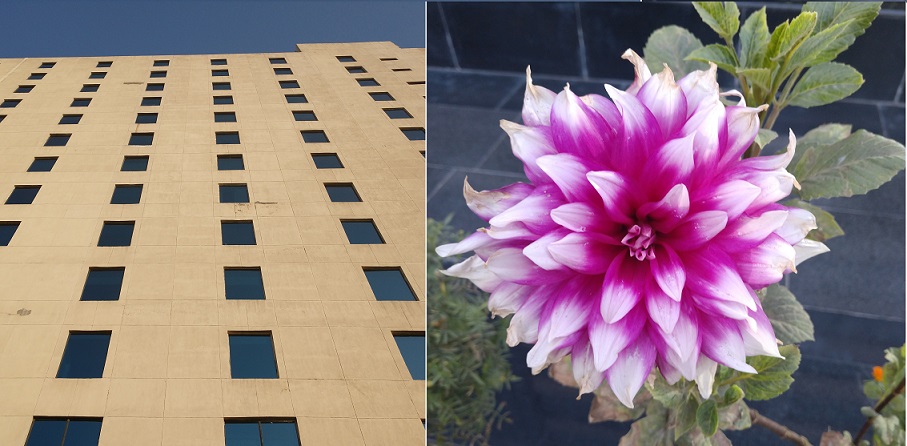 Battery
Now, this is the part where I have the most mixed feelings and it became very difficult to come to a verdict. The Z2 Force has a below average battery life. It loses charge so quickly that you end up charging it several times. The 2780mAh battery size inside also indicates the same. However, I never felt the battery being an issue, on the flip side, I was getting a lot of battery life out of it. That's because I never used it without the battery MOD.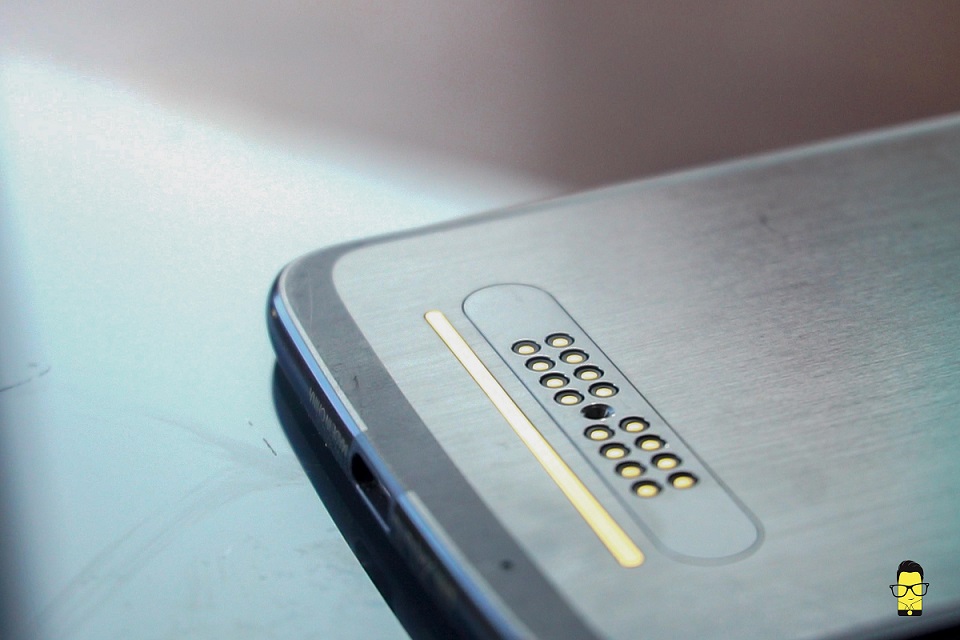 Now MODs could've been another section, but the reason I bring it here is that the battery MOD comes with the phone here in India, and once you experience you easy your life becomes with it, you never really take it off.
Using the Moto Z2 Force was a unique experience for me because apart from a few times, in the beginning, I never connected the phone to a wall charger. I never had to put my phone down to get it charged, which was more convenient than you can imagine. I always had the phone with me, while the MOD would be plugged.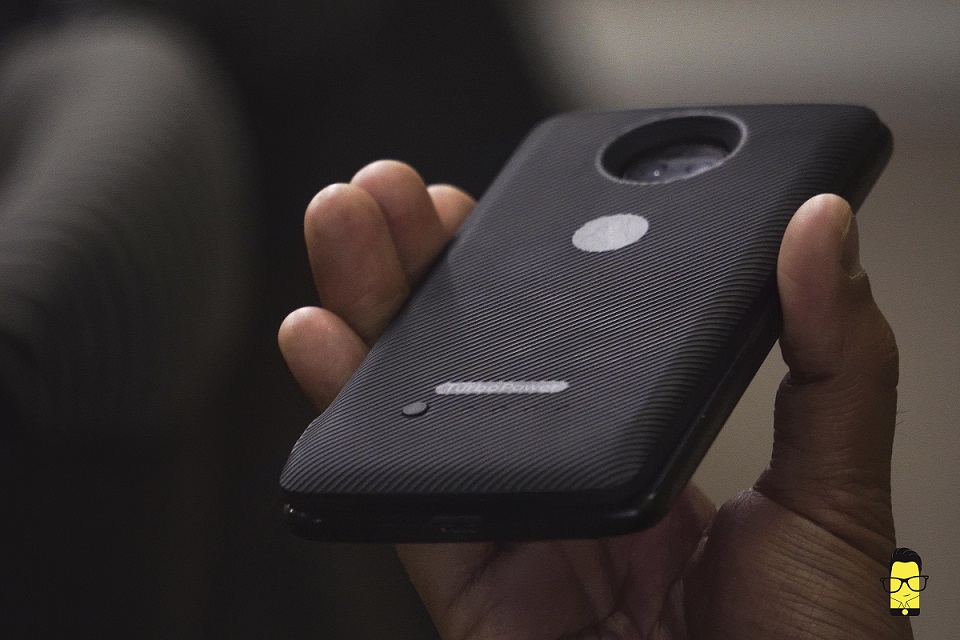 The software also lets you chose between a slow charge or a turbo charge when the MOD is connected, which is simply genius. This was purely a unique experience. The Moto turbo Charger is probably second to only Dash charge and I think that says it all. 
Verdict 
The Moto Z2 Force with the shatterproof display, unique sturdy design, gorgeous 2K AMOLED Panel, snappy performance, and a price tag that doesn't do it justice, is a reliable package. It doesn't go crazy on a lot of features, but it gets the job done and with the least hassles. 
The Moto Z2 Force is available in 6GB RAM/ 64GB storage variant Exclusively on Flipkart for Rs. 34,998.
For more updates stay tuned to Mr. Phone.