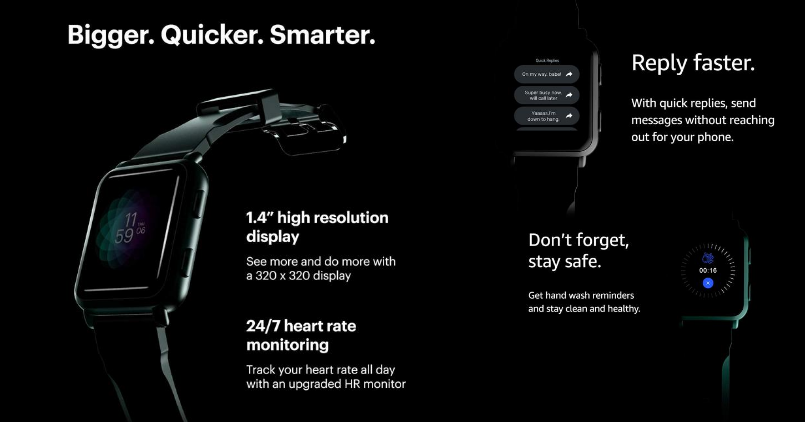 Noise is a company that has bucked the trend of launching fewer products per year. The brand has been constantly pushing out great VFM products that have mass appeal to them. Yet another product from Noise that incorporates this idealogy will be the Noise ColorFit Nav smartwatch. Let us discuss the specifications of this upcoming smartwatch arriving on Amazon Prime Days. 
Noise ColorFit Nav – Specifications
The Noise ColorFit Nav comes with the 'Nav' moniker which means that the watch will feature an in-built GPS sensor. This sensor will be very handy since, the sensor will enable the watch to track 10 sports modes with tracking for speed, distance, and path in real-time adding to the accuracy of the activity tracking.
Another area where this device will be quite different is the display. It will feature a display that will be larger than the previous-gen Noise ColorFit Pro devices. This screen will be a 320 x 320-pixel resolution, which is said to provide sharper visuals. To add to the appeal of this device, it will come with an IP68 rating (water and dust resistance). 
Additionally, there is also a 24 x 7 heart rate monitoring system, which will help the user to keep tabs on the heart all day long. Finally, the device will be equipped with watch faces in the UI and will also be receiving more watch faces through OTA updates which will be rolled out post-launch.
Noise ColorFit Nav – Availability And Variants
The Noise ColorFit Nav will be launched in two color variants that will be revealed on the day of launch (6th of August). The pricing will also be revealed on the same day. It will be an Amazon exclusive launch on Prime Day. 
What are your thoughts on the device and, how much would you like to pay for this device? Do let us know in the comments below.