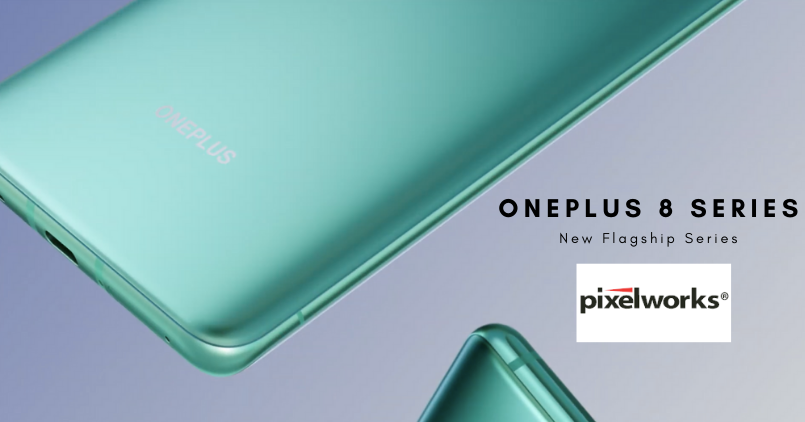 OnePlus has announced its latest flagship series, the OnePlus 8 series. Now that we all know about the details of the full specification of the phone, we can talk about one interesting partnership. OnePlus has partnered up with industry leader in display processing solutions named Pixelworks. Bringing its two decades of experience in content creation, video delivery, and image processing innovations. The OnePlus 8 series is filled with Pixelworks technology and features. Let's talk about it briefly.
OnePlus 8 Series enabled with Pixelworks technology
Starting with the incorporation of fifth-generation visual processor, it brings unique abilities to the display of The OnePlus 8 series smartphones. While some of them are exclusive to the Pro model, we see up to 10 industry-leading features, which enhances the visual quality experience on a mobile phone display. Naming the technologies and features, the list includes Dual MotionEngine tech, Always HDR experience, Tone Adaptive display, Absolute colour accuracy, True Flesh tones, brightness smoothing, DC dimming 2.0 and patented (Motion Estimation Motion Compensation )MEMC technology.
Speaking about the Dual MotionEngine technology, it improves the overall visual quality while preserving the intended motion appearance for movies, live TV, sports, shared the video and other dynamic multimedia
content. This is done by dual MIPI (Mobile Industry Processor Interface) support. Moving to the Always HDR feature, it is essentially an HDR Boats feature. Not all HDR-capable displays are created equal. The OPO 8 Pro is enabled with this feature, it basically upconverts all SDR content for a visually superior experience to the original SDR content.
The Tone adaptive display is truly built for a gaming audience. This technology removes the blue light and offers superior eye comfort by utilising the RGB sensor to automatically adjust the colour tone of the display. Whether its gaming, movie watching or reading your eyes will have the much-needed comfort. This is valid across a wide range of lighting conditions. These are some of the features that are available only on OnePlus 8 Pro model. Now below you can learn about the features that are available on both, OnePlus 8 series phones. In the company's words, here you go.
Absolute Color Accuracy – Every OnePlus 8 series smartphone is factory tuned with Pixelworks'
patented, high-efficiency calibration software and runs Pixelworks color management software
on the display processing unit of the Snapdragon 865 to optimize power while delivering a
smartphone industry-record color accuracy for all apps and content spanning the sRGB and DCI-
P3 color gamuts.
True Flesh Tones – A calibrated flesh tone solution ensures accuracy across all display modes to
convey true-to-life skin tones for all content involving real people, whether photos, video
captured on the phone or popular movies.
Brightness Smoothing – Finely tuned, automatic luminance control enables ultra-smooth display
brightness transitions and mitigates screen flashing as ambient lighting changes, particularly in
dimly lit viewing environments.
DC Dimming 2.0 solves a key eye strain and visual sensitivity issue that can occur at low
brightness on AMOLED screens. To dim the screen, the Pixelworks solution dynamically adjusts
the display's current to mitigate the screen flickering associated with conventional Pulse Width
Modulation (PWM) dimming. This feature is enabled on both OnePlus 8 models.