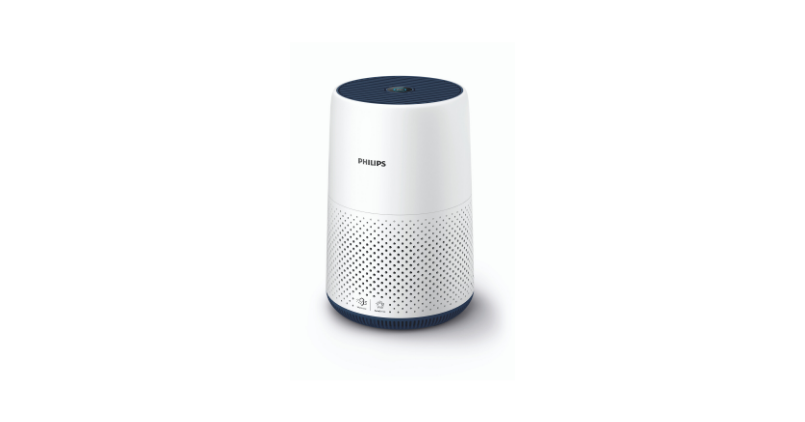 Phillips has announced its latest offering in the Air Purification genre. The new Phillips 800 series air purifiers are teased as the new ideal machines for your homes. They are launched at a starting price of Rs 8,995 and will be made available online as well as offline. This Air Purifier under Rs 10,000 could be your first product. Let's talk more about the specifications and features below. 
Phillips 800 Series – Features
Featuring a compact design, the new Phillips Air Purifier is said to be good for a room size of 20 cubic metre. Its compact design makes it a perfect fit in every corner of your home. It is powered by a new 3D Circulation system. This system is said to ensure speedy and efficient purification, within 16 minutes, as per the claims. 
The sleep mode on the Phillips 800 Series air purifier makes sure that it operates with quiet decibel levels. The sound levels are said to go as low as 34dB (A). The four-step colour indication allows for real-time identification of the air quality. Thus giving your reassurance about the air quality in your home. 
The 800 Series air purifier claims to clean 99.50% nano-sized particles including PM2.5, dust, car emission, and more. The 99.7%  allergens like pet dander, pollen, dust mite and more can be removed. Add 99.9% bacteria removal claim to that as well. The company claims its new affordable air puffier line-up was created for Indians. Further, it is said to ease asthma and allergy symptoms in children and adults. 
Phillips claims that it is built with an intelligent auto purification mode and smart sensing technology, which is powered by a professional-grade sensor. It automatically senses and reacts to even the slightest change in the air. The company claims with its one-button effortless control it can remove 99.95% nano-sized particles and other claimed dust and car emission particles harmful for the human body. 
Phillips 800 Series – Here's the comment from the executive on the launch
Commenting on the launch, Gulbahar Taurani, Vice-President, Personal Health, Philips Indian Subcontinent said, "With air pollution reaching dangerous levels across major cities in India, more and more people are becoming aware of the health impacts it causes. There is a growing concern in the country around issues caused by pollution like asthma, breathing issues, allergies, especially in children. Indoor air pollution is even worse than outdoor and has become a year-round problem. This has led to air purifiers becoming a necessity for every Indian household.