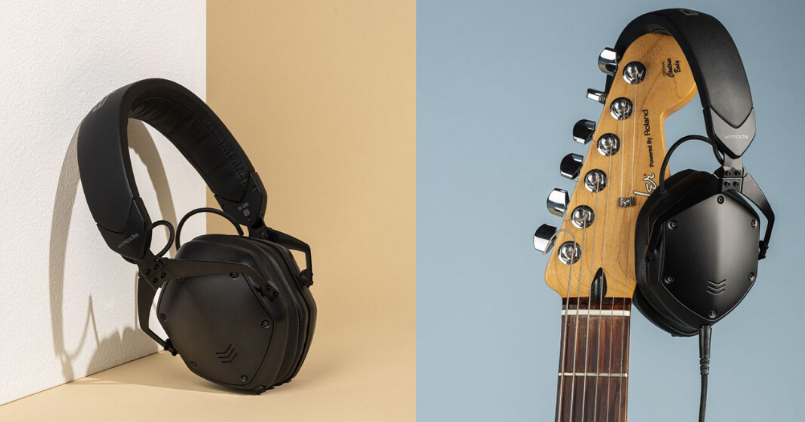 V-MODA, a popular professional headphones manufacturer has launched its first studio referent headphones. Dubbed as M-200, these new first of its kind studio headphones claims to deliver Hi-Res certified sound quality, staying true to V-MODA's principles. Built with the same standards as seen on other products from the company, the M-200 brings grade-A build quality with two years warranty to a new class. 
V-MODA M-200 Studio Headphones – Features 
Developed for creators, the new V-MODA M-200 headphones deliver crystalline audio so clear and neutral. This allows picking up on subtle nuances and flaws easier than before. Which is what important for musicians and producers. 
Do you want to experience Hi-Res sound? Featuring 50mm drivers along with neodymium magnets, it is fine-tuned by Roland engineers. It supports CCAW voice calls. Certified by Japan Audio Society (JAS), it can reproduce frequencies up to 40Hz to create detailed and accurate sound. 
Comfort is the key. If you're a musician you'd want a headphone that is comfortable for your long working hours. The V-MODA M-200 studio headphones claim to offer that comfort. In fact, it claims to master it. The closed-back design allows for optimal noise isolation and a fit easily adjustable. It is said to offer easy single-ear monitoring and studio recording. Thanks to the single-sided balanced cables. 
To carry these premium headphones anywhere you want, the company offers a CliqFold hinge. It packs packing it up easy. This also makes sure of the durability of the headphones. Taking your show on the road is easier with its carabiner clip design. Speaking about the cable, it offers certain functionality like 1-Button Mic cable. 
The pre-order for these headphones isV-Moda M-200 studio headphones with Hi-Res sound launched in India said to start from mid-November. Unfortunately, the pricing is not yet out. Although, you can watch out for the pricing at the HeadPhone Zone, which is where thee headphones will be available for purchase.